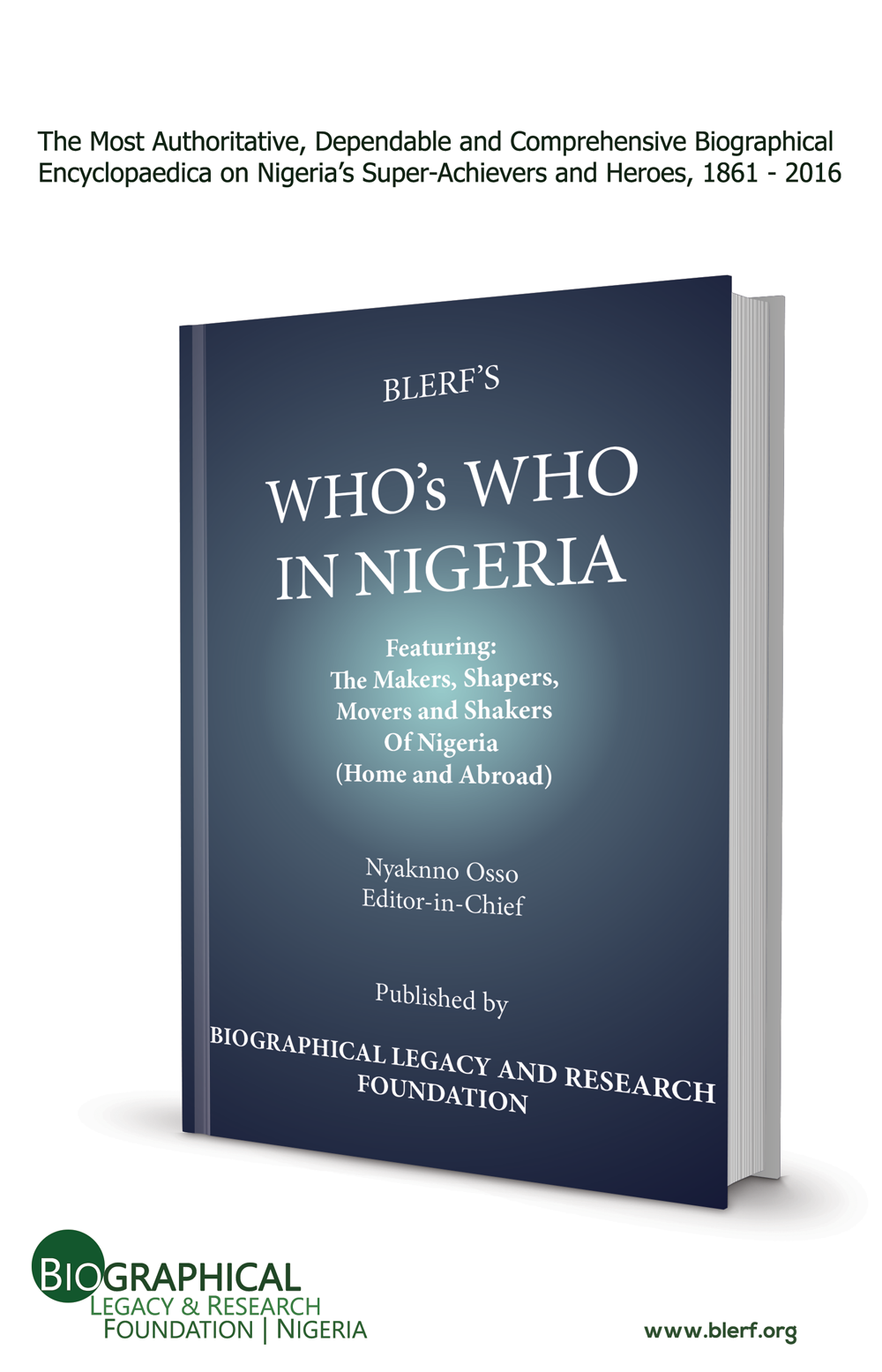 BACKGROUND
The Biographical Legacy & Research Foundation (BLERF), Nigeria, is a non-governmental, non-for-profit organization that was founded to carry out the systematic and methodological research, investigation and study of historical works with a view to publishing and publicizing, the biographical information of Nigerian Super-Achievers/Heroes from all walks of life, dating back to 1861.
The foundation which is a first-of-its-kind in Africa is an unparalleled and unrivalled Centre for authentic, dependable, comprehensive and authoritative source of Nigerian biographies, meticulously updated on a daily basis.
Registered with the Corporate Affairs Commission of Nigeria with registration number: RC63026 to carry out the business of biographical research: the Foundation after over twenty years of research by its founder, has collated, verified, documented and ready to publish in multiple formats i.e prints, electronic, CD-ROMs etc., the biographical information of over one (1) million distinguished Nigerians spanning over a century of Nigeria's existence both home and abroad.
These are the "Who was Who & Who's Who!" The collection which was gotten from years of data harvesting from primary, secondary and tertiary sources, celebrates the histories of their lives, times and achievements.
LIFETIME PROJECT
As the Home of Nigerian Biographies, BLERF is a lifetime project and thus is leveraging on new-media technologies and through ICTs to make available to Nigerians and indeed the whole world this vast databank of resources.
CONCEPT OF THE PROJECT
The project is a venture designed to institutionalize the research, study, documentation and celebration of Nigerians who have made tremendous achievement and contributed to the growth and development of the country over the last one hundred and fifty years.
The project which is broken-down into phases but scheduled to run simultaneously has two parts:
The Book Project: The Book entitled: Blerf's Who's Who: featuring "The MAKERS, SHAPERS, MOVERS & SHAKERS OF NIGERIA, 1861-2016", is a Biographical Encyclopedia of Nigerian Super-Achievers and Heroes. It consists of distinguished Five (5) thousand Nigerians of the past one hundred and fifty years. These Nigerians are selected based on their achievements and impact in private practice, business or public service by a group of eminent Scholars, Historians, Elder-Statesmen and Journalists. The idea of the Book Project is to give a taste of the quality and detailed work put into the project. Also, it is to spotlight the online resources for the rest of the database.
The Online Database Resources: Because it is impossible to have a printed edition containing over 1 million entries, BLERF has decided to have a website with the domain name blerf.org where the several eminent biographees data can be hosted, updated and easily accessible to members of the general public.
The website is designed to be enriched with new entrants termed, "Rising Stars" while previous entries will continuously be monitored for changes in their status so that every new information assessed about any biographee must be added immediately to upgrade the entry.
OPERATIONAL SYSTEM
Secretariat: BLERF is running an IT Based Secretariat in its Abuja Headquarters to liaise and coordinate with prospective biographees and contributors for the duration of the entire Project. The Secretariat shall provide the required support for the Project.
Book Launch: The Book launch will come up after the completion of the compilation, editing and double-checking of collected biographical data.
Website: The website which is being re-designed will be up and running before the launch of the Book Project, to ensure that any technical glitches can be rectified before it is opened to the general public.
Official Launch of Project: Following successful completion of Book Project and test-running of the website, a date shall be decided by BLERF for the official launch of the entire Project. The official launch of the project will target top government officials from the Three Arms of Government i.e. The Presidency, National Assembly, Judiciary; State Governors, Ministers; Eminent Nigerians; Captains of industries and the Diplomatic Community are also being targeted with coverage from the national and international media guaranteed.
Advertising, Campaign/Branding: A comprehensive advertising campaign/Branding/Marketing Strategy is being put together to give prominent and positive coverage for the Project; The Project Launch and our Sponsors. The strategy is designed to advertise the Project and our Sponsors in National and International Print and Electronic media including the social media platforms.
  BENEFIT PROPOSITION
Prestige/Honour: A Project of this magnitude is not quantifiable in terms of material returns. Of course, while it is designed to be self-sustaining through modest subscription charges on the website, the greater value of this project lies in its intrinsic value as a national heritage. It would bring honour and recognition for Nigeria and increase its prestige among the comity of nations.
Legacy: The project is an unparalleled Legacy to Nigeria. It has been designed to outlive this generation. Thus, it is a lifetime project for the benefit of Nigeria and indeed the entire world as it provides a one-stop access to biographical data of the most celebrated Nigerians of all times.
Sponsorship Opportunities: Projects like this have distinct relevance and brings high/positive visibility and prestige for its sponsors. It doesn't get better than this with a partnership on a project of this magnitude.
Academic/Research Purposes: There is no gain-saying what this project offers to researchers, scholars, historians, and students. It offers an unfettered source of reliable biographical information also to writers, researchers and the international community. The paucity of biographical information on Nigerian super-achievers would be adequately/accurately addressed.
Government/Corporate Decision Making: This Project offers a wealth of information and saves time spent in fruitless search for biographical information or career history required when vetting individuals for appointment by Government, Corporate or International Organizations.
TO BE UPDATED DAILY FOR AUTHENTICITY & RELIABILITY
This Project is designed to institutionalize the practice of proper documentation of the lives and careers of Nigerian Super-Achievers.
It is a lifetime endeavor that will be dedicated to the research and documentation of lives and careers of distinguished Nigerians from all persuasions to be updated daily for authenticity and reliability.
MOST IMPORTANTLY:
The BLERF online data bank compliments other literary works on biographies that have been carried out by different individuals. But its distinguishing features is the introduction of the online component which marries the traditional single book presentation and the modern electronic media platform either through the use of computers with internet connectivity or on mobile phones with appropriate applications.
This approach saves the user countless hours of unnecessary research work by placing the information he or she needs at their fingertips.
                                                            VISION
To be Nigerian's foremost authority and first-class organisation delivering online biographical information on Nigerian Super-achievers and Heroes anywhere in the world.
                                                            MISSION
To methodically search, collect, verify, preserve, update and present biographical data on Nigerian Super-achievers and Heroes employing the highest professional ethic and standard in data collection. And to deliver these information in a medium best suitable for each user.